Elementar Americas, Inc. is the sales, service and support office covering North and South America for the elementargroup.
Elementar Americas, Inc. was established in 1998 in Mt. Laurel, NJ, just outside Philadelphia, PA with an additional service site in suburban Chicago (Highland, Indiana). After the corporate relocation in March 2018, Elementar Americas is operating from their new office in Ronkonkoma, NY. We are a full stocking location with an extensive on-hand inventory of parts and supplies. Over 98% of all orders ship the same or next day. Regular weekly shipments from the factory assure short delivery even for obscure items.
We pride ourselves in our personal approach and extensive customer service support. We invite you to speak with our users to get a customer perspective on Elementar products and Elementar Americas product support.
We always find it fascinating how individual elements shape the world.
You want to know more about the history of elemental analysis?
Our book "125 Years of Instrumental Elemental Analysis - A success story" offers you deep insights into the development of elemental analysis from the very first beginning up to latest trends nowadays. Which pioneers have laid the foundation for elemental analysis with their innovative ideas and research? How has elemental analysis developed from the early stage to an industrial produced technology? What is the technological platform that the method is based on and which applications can be covered? Which role have we as Elementar played in the development of elemental analysis? All these questions are getting answered in the book. Enjoy reading.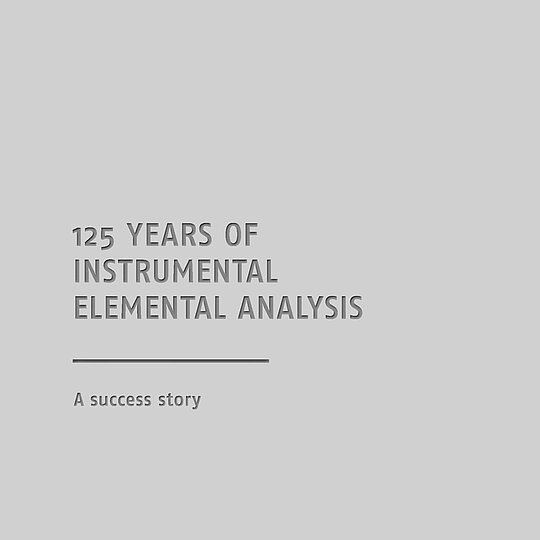 Fill in the form to receive your download link by e-mail.
By downloading the file, I simultaneously consent to Elementar Americas Inc. sending me a personalized newsletter by e-mail and evaluating my respective user behavior and - if available - consolidating this data with my data in the customer da<![CDATA[By downloading the file, I simultaneously consent to Elementar Americas Inc. sending me a personalized newsletter by e-mail and evaluating my respective user behavior and - if available - consolidating this data with my data in the customer database. The newsletter can be unsubscribed at any time with effect for the future. For further information, please read our privacy policy.