Stable Isotope Facility @ British Geological Survey, United Kingdom
Professor Melanie Leng is a Science Director at the Stable Isotope Facility at the British Geological Survey,which is a node of the NERC Isotope Geosciences Facilities and employs a wide variety of stable isotope methodologies in environmental change, pollution, hydrology and human-landscape interactions. She is also a Professor of Isotope Geosciences at the University of Nottingham and Director of a joint Centre of Environmental Geochemistry between the university and the British Geological Survey.
Professor Leng and her team have used a range of Elementar equipment for around 20 years, with the most recent purchase an Isoprime with Dual Inlet Multiprep for small carbonate oxygen and carbon isotope analysis, allowing for the measurement of smaller sample sizes at very high precision. They used stable isotope mass spectrometers to work on a range of research questions in environmental geosciences, from past climate change to tracing pollution pathways.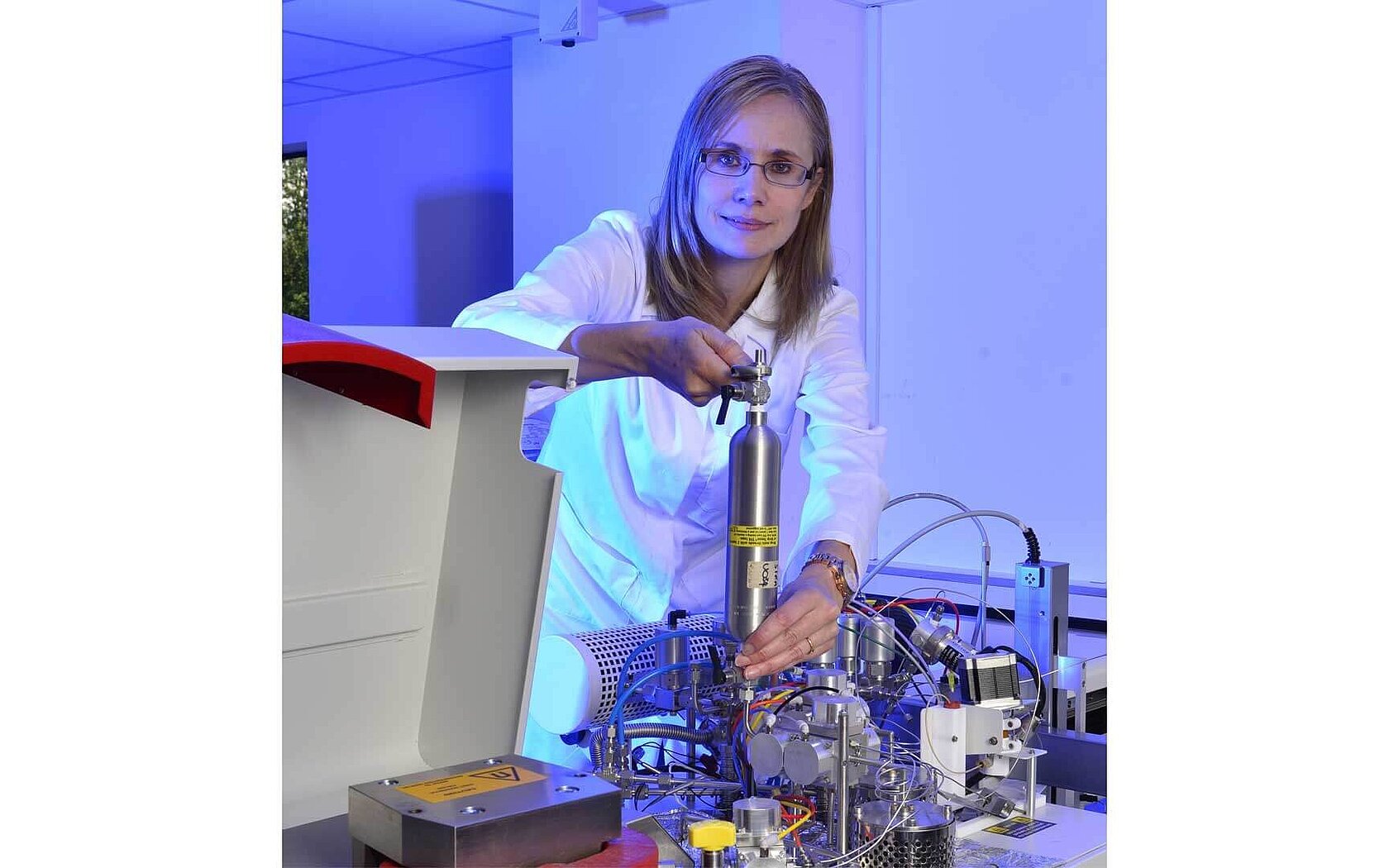 The product enables the team to measure the C and O isotope composition of very small fossils (ostracods and foraminifera) to study past conditions in the oceans. They have measured single foraminifera from several places around the world, and analysing single specimens has allowed them to capture the moment in time when the shell formed. By analysing several specimens from the same geological level, they can piece together aspects of climate seasonality from the past - such as demonstrating that during the glaciations summers were colder, but winters were not.
On her labs' relationship with Elementar UK Ltd, Professor Leng had this to say:
The British Geological Survey has a long-established association with Elementar UK Ltd. The stable isotope labs at the BGS are widely acknowledged as being world-class and we analyse all the common light isotopes in a wide range of environmental matrices. Many of our methods help set global benchmarks for a particular analysis...partly due to Elementar instrumentation...we obtain exceptional precision and very high throughput. We often work with Elementar UK Ltd on improvements to instrumentation as we demand the highest level of performance on the smallest sample sizes which not only requires knowledgeable staff at the BGS (who really understand how to operate and maintain the instruments) but also exceptional instrumentation and technical support from Elementar. Our long term relationship (>20 years) with Elementar UK Ltd (and their precursor companies) is testament to their customer service and instrumentation.
About the Stable Isotope Facility @ BGS
The Stable Isotope Facility focuses on the environment, in particular climate change and human-landscape interactions, with increasing importance on the Anthropocene and the modern calibration period. It uses stable isotopes as tracers of modern pollution and understanding the hydrological cycle, especially in areas suffering human impact. It works with the UK higher education institutes community and international partners to deliver research, method development and training.
Instrumentation installed:

IsoPrime with EuroPyrOH for analysis of water δ2H/δ1H in marine and fresh waters, fluid inclusions, soil/plant materials

IsoPrime100 with AquaPrep for analysis of water δ18O/δ16O in marine and fresh waters, fluid inclusions, soil/plant materials

IsoPrime100 with MultiCarb for analysis of δ13C/δ12C and δ18O/δ16O of single microfossils

IsoPrime with MultiCarb for analysis of δ13C/δ12C and δ18O/δ16O of microfossil and other pure calcium carbonates, impure carbonates, and aqueous bicarbonate

isoprime precisION with iso FLOW for analysis of δ13C of Dissolved Inorganic Carbonates (DIC)

isoprime precisION with vario ISOTOPE select for the analysis of δ15N, δ13C and δ34S of organic materials

Address:

British Geological Survey

Nicker Hill

Keyworth

Nottingham

NG12 5GG

United Kingdom

Contact details:

Email: mjl@bgs.ac.uk
Twitter: @MelJLeng
Lab website: www.bgs.ac.uk

Selected publications:

Crippa, G., Angiolini, L., Bottini, C., Erba, E., Felletti, F., Frigerio, C., Hennissen, J.A.I., Leng, M.J., Raffi, I., Raineri, G., Stephenson, M.H. 2016. Seasonality fluctuations recorded in fossil bivalves during the early Pleistocene: implications for climate change. Palaeogeography, Palaeoclimatology, Palaeoecology, 446, 234-251. [click here to view]

Kender, S., McClymont, E.L., Elmore, A.C., Emanuel, D., Leng, M.J., Elderfield, H. 2016. Mid Pleistocene foraminiferal mass extinction coupled with phytoplankton evolution. Nature Communications, 7, 11970 doi:10.1038/ncomms11970. [click here to view]

Meredith, M.P., Venables, H.J., Stammerjohn, S.E., Ducklow, H.W., Martinson, D.G., Iannuzzi, R.A., Leng, M.J., Melchior van Wessem, J., and Reijmer, C.H. 2016. Changing distributions of sea ice melt and meteoric water west of the Antarctic Peninsula. Deep-Sea Research II. [click here to view]

Smith, A., Wynn, P., Barker, P., Leng, M., Noble, S., Tych, W. 2016. North Atlantic forcing of moisture delivery to Europe throughout the Holocene. Scientific Reports, 6, 24745 [click here to view]

Spooner, P.T., Guo, W., Robinson, L.F., Thiagarajan, N., Hendry, K., Rosenheim, B.E., Leng, M.J. 2016. Clumped Isotope Composition of Cold-Water Corals: A Role for Vital Effects? Geochimica et Cosmochimica Acta, 179, 123-141. [click here to view]