Lancaster University is using an IsoPrime100 IRMS for paleoclimate reconstruction
Dr Peter Wynn is a Senior Lecturer at Lancaster University, and is based within the Lancaster Environment Centre (LEC). He is a Stable Isotope Geochemist researching in the fields of paleoclimate reconstruction and glaciology. Dr Wynn also teaches within both these fields, contributing to the physical Geography degree program. As well as his performing his own research and teaching, Dr Wynn leads the stable isotope facility within the department, with Mr. David Hughes as lead technician. The facility was commissioned in 2009 and the two machines purchased from Elementar serve as its main workhorses.
The facility has an IsoPrime100 IRMS coupled with a vario PYRO cube® elemental analyzer with VLS liquid autosampler, which routinely runs sulfur isotopes in combustion mode, oxygen isotopes of sulfates by high temperature pyrolysis and hydrogen isotopes in both solid and liquid samples. The instrument is equipped with Dual Inlet capability, which the team uses to safely deliver SO2, CO and H2 monitoring gases while analyzing in continuous flow mode.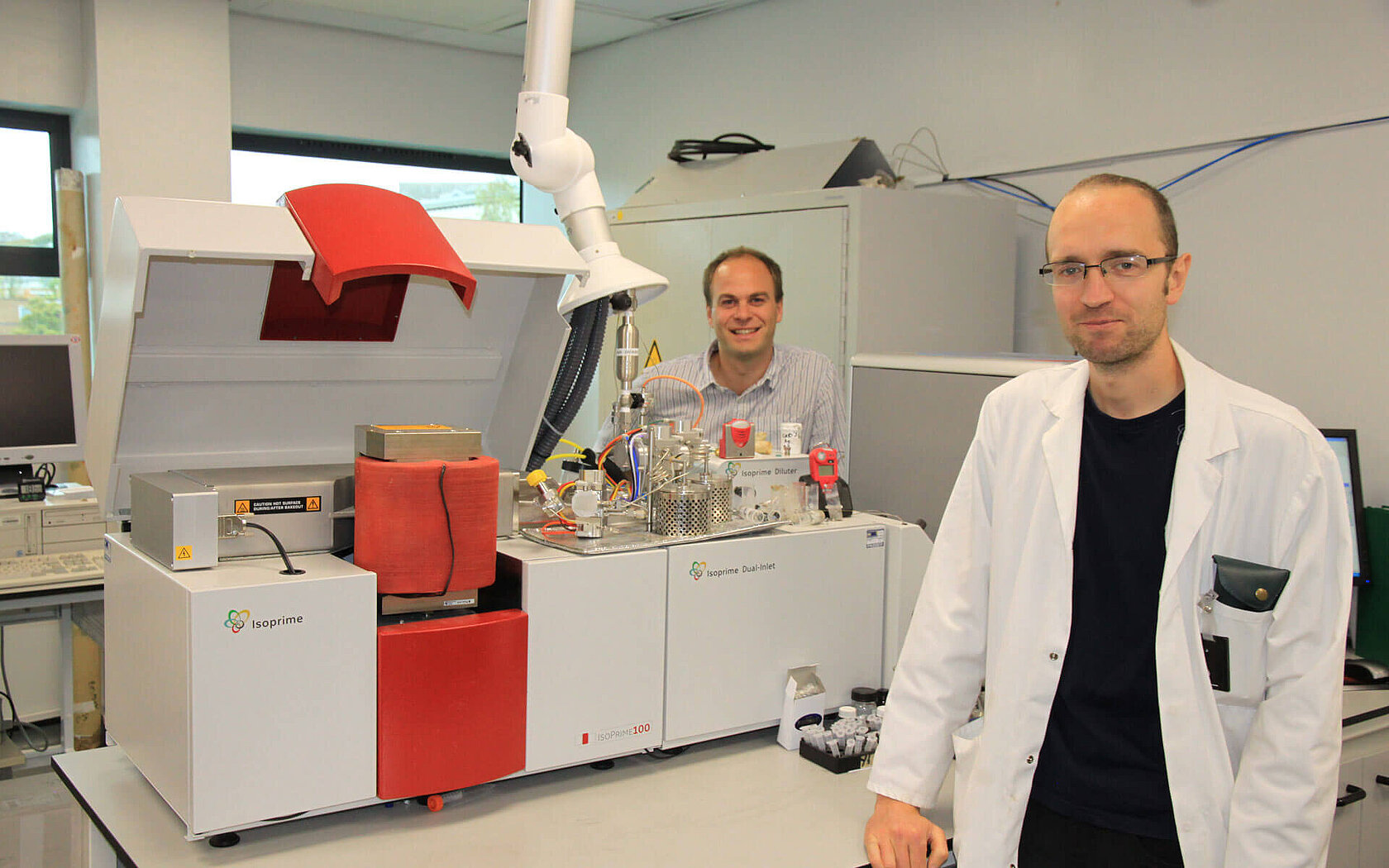 The facility's second IsoPrime100 is coupled to a MultiFlow, on which the team routinely runs carbonates for carbon and oxygen isotopes and headspace analysis of waters for oxygen isotopic composition. A GC5 system increases the capability of this instrument also allows the team to analyze compound specific isotopes in environmental samples.
Funding sourced through the European Regional Development Fund (ERDF) has recently allowed the facility to develop an industrial-academic connection with Elementar UK to beta-test an EcovisION stable isotope analyzer while in its prototype stage. This instrument operates with a vario ISOTOPE select for the analysis of carbon and nitrogen isotopes in solid organic samples.
The department introduced Elementar equipment into the facility after identifying a strategic need to move into stable isotope analysis. The department's research themes are very broad, and so the team wanted to purchase equipment that can address a diverse range of sample types and environmental problems.
Dr Wynn's team is currently applying stable isotope analysis to a range of environmental problems, from deep geology to pollution dynamics to wildfowl migration patterns. The team serves the analytical needs of researchers within the department, as well as external customers, through which it has established a global reach into environmental research institutions.
The department's specialty is analyzing sulfur isotopes and undertaking high temperature oxygen pyrolysis and the team has established techniques to extract sulfur isotopic signals from paleo records, including speleothems, tree rings and carbonate rocks. It routinely uses high temperature pyrolysis to extract the isotopic record from oxygen-bearing molecules, including sulfates and phosphates.
On his relationship with Elementar, Dr Wynn had this to say:
I have been a user of Elementar instrumentation for the past 15 years, spanning several different institutions. The flexibility of the instrumentation and the company to remain at the cutting edge of scientific needs is impressive. This approach is essential for success in front line science and represents the key reason why Elementar remains a number one choice for isotope analytics.
Dr Wynn is aspiring to next purchase an isoprime precisION and iso FLOW system, which reflects the needs of the facility to move into isotope analysis of greenhouse gases. The department has a pressing scientific agenda to analyze for methane C and H isotopes in a variety of environmental samples and Dr Wynn would also like to improve the team's ability to analyze environmental samples for nitrate N and O isotopic composition using the denitrifier technique with in-house analytical capability.
About the Lancaster Environment Centre @ Lancaster University
The Lancaster Environment Centre is a community of environmental researchers, students, government scientists and commercial enterprises at Lancaster University. It aims to address the very biggest environmental challenges and includes the Stable Isotope Ratio Mass Spectrometer Facility, which operates alongside the Centre for Ecology and Hydrology to deliver high-quality isotopic data and to pioneer novel techniques.
Instrumentation installed:

IsoPrime100 IRMS

(legacy instrument, successor: isoprime precisION)

with Dual Inlet, vario PYRO cube® elemental analyzer and VLS vario Liquid Sampler


IsoPrime100 IRMS

(legacy instrument, successor: isoprime precisION)

with Dual Inlet, MultiFlow and GC5 analyzer

Address:

Stable Isotope Ratio Mass Spectrometer Facility
Lancaster Environment Centre
Lancaster University
Lancaster
United Kingdom
LA1 4YQ

Contact details:

Email: p.wynn@lancaster.ac.uk

Website: www.lancaster.ac.uk/lec/research/research-facilities/#d.en.374286

Selected publications:

Smith, A., Wynn, PM., Barker, P., Leng, M., Noble, S. 2016. North Atlantic forcing of moisture delivery to Europe throughout the Holocene. Scientific Reports. DOI: 10.1038/srep24745.

Benn, D. I., Le Hir, G., Bao, H., Donnadieu, Y., Dumas, C., Fleming, E. J., Hambrey, M. J., McMillan, E. A., Petronis, M. S., Ramstein, G., Stevenson, C. T. E., Wynn, PM. & Fairchild, I. J. 2015. Orbitally Forced Ice Sheet Fluctuations in Snowball Earth. Nature Geoscience. DOI: 10.1038/NGEO2502.

Wynn PM., Morrell, D., Tuffen, H., Barker, P., Tweed, FS. and Burns, R. 2015. Seasonal release of anoxic geothermal meltwater from the Katla volcanic system, Sólheimajökull, Iceland. Chemical Geology. DOI: 10.1016/j.chemgeo.2014.12.026

Wynn, PM., Loader, N. and Fairchild, IJ. 2014. Interrogating trees for isotopic archives of atmospheric sulphur deposition and calibration to speleothem records. Environmental Pollution, 187, 98-105.

Wynn, PM., Borsato, A., Baker, A., Frisia, S., Miorandi, R., Fairchild, IJ. 2013 Biogeochemical cycling of sulphur in karst and transfer into speleothem archives at Grotta Di Ernesto, Italy. Biogeochemistry, 114 (1-3) 255 - 267