Elementar is arisen from the Analytical Instrumentation Department of the Heraeus technology group, in the Rhine Main area near Frankfurt, Germany. Nowadays, we are a constantly growing, owner-managed company with nine locations worldwide. Together with our sales and service network, we serve more than 80 countries with our solutions. We help you, our customers, to support the quality of life whenever water, nutrition, education, health, environment, climate, energy or product quality are involved. We make life understandable in its elements, to explain it and to preserve it. Constantly. Simple.
We aim to provide you with the best solution for your applicational needs. To achieve this, we are constantly working on innovations and strive for the highest quality. In addition, we attach great importance to comprehensive customer support and pursue a strong sustainable approach – in ecological as well as economic terms. This is reflected in the use of high-quality materials for longest lifetime of our instruments, in our headquarters, which follows a sustainable construction and energy concept and also in a business model that ensures our long-term success.
We always find it fascinating how individual elements shape the world.
You want to know more about the history of elemental analysis?
Our book "125 Years of Instrumental Elemental Analysis - A success story" offers you deep insights into the development of elemental analysis from the very first beginning up to latest trends nowadays. Which pioneers have laid the foundation for elemental analysis with their innovative ideas and research? How has elemental analysis developed from the early stage to an industrial produced technology? What is the technological platform that the method is based on and which applications can be covered? Which role have we as Elementar played in the development of elemental analysis? All these questions are getting answered in the book. Enjoy reading.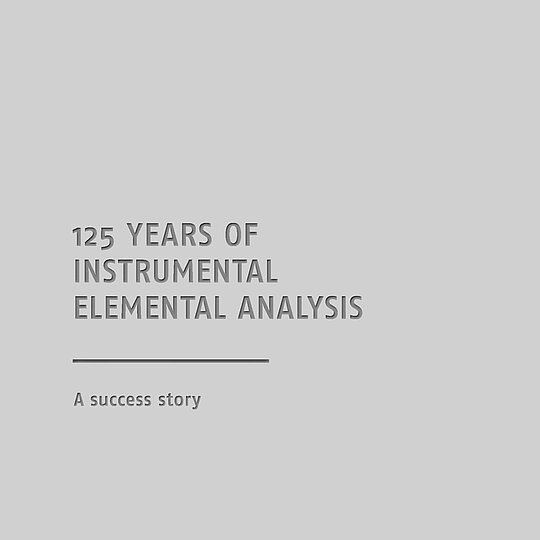 Fill in the form to receive your download link by e-mail.
By clicking on the "Subscribe" button, I consent to the receipt of personalized newsletters via e-mail by Elementar Analysensysteme GmbH and its group companies companies as well as the evaluation of my user behavior in this regard and - if available - the merging of this data with my data in our customer database. In order to receive newsletters from our group companies, it is necessary to transfer your above-mentioned personal data to these companies. We point out that these are partly located in so-called unsafe third countries outside the EU/EEA , in which no adequate level of data protection (e.g. by adequacy decision of the EU, Art. 45 GDPR) is guaranteed. In these countries, you may not be able to enforce your rights as a data subject, or only to a limited extent. In addition, it is possible that local government agencies access your data to a disproportionate extent. The transfer of data to these recipients is therefore only legitimized by your consent pursuant to Art. 49 (1) lit. a) GDPR, which you grant with your subscription. The newsletter can be unsubscribed at any time with effect for the future as well as my consent to the third country transfer can be revoked at any time. A revocation does not affect the lawfulness of the processing carried out on the basis of the consent until the revocation. For further information, please refer to our privacy policy.