TOC analyzers for fast and easy TOC determination
The concentration of total organic carbon (TOC) in liquid and solid samples is one of the most important screening parameters in water and environmental analysis. Whether you look at the evaluation of water quality, waste disposal or cleaning validation – the evaluation of organic pollution is always needed.

We at Elementar incorporate more than 45 years of experience in the development and manufacturing of TOC analyzers. Our products for TOC and water analysis offer fast and easy determination of total organic carbon in liquids and solids. In addition, further elements and parameters can be determined with our flexible TOC analyzers.
Total organic carbon analyzers for unmatched versatility
We provide a wide range of TOC analyzers for a multitude of different applications. Our instruments use either high-temperature combustion or chemical oxidation combined with UV radiation. This enables us to offer the best suitable technique for your applicational needs.
No matter if you want to determine TOC in ultra-pure water, drinking water, surface water, sea water, concentrated hydrochloric acid, waste water, soil eluates, soils, sediments or solid waste – we always have the perfect solution for your application.
Our portfolio of TOC analyzers
Our total organic carbon analyzers offer industry-leading versatility in TOC analysis. Our instruments are designed for delivering high-precise analysis results, long lifetime & low running costs. Our user-friendly, intuitive software and the tool-free maintenance make the operation of the TOC analyzers very easy. The fully automated sampler of our TOC analyzers efficiently leads to precise measurement results. The robust design guarantees highest possible uptime for routine operation.
It's time to TOC - TOC vs. BOD & COD
Learn why total organic carbon (TOC) measurement is the safer, more reliable and environmentally friendly alternative to biological and chemical oxygen demand (BOD and COD) measurement in wastewater analysis in this white paper.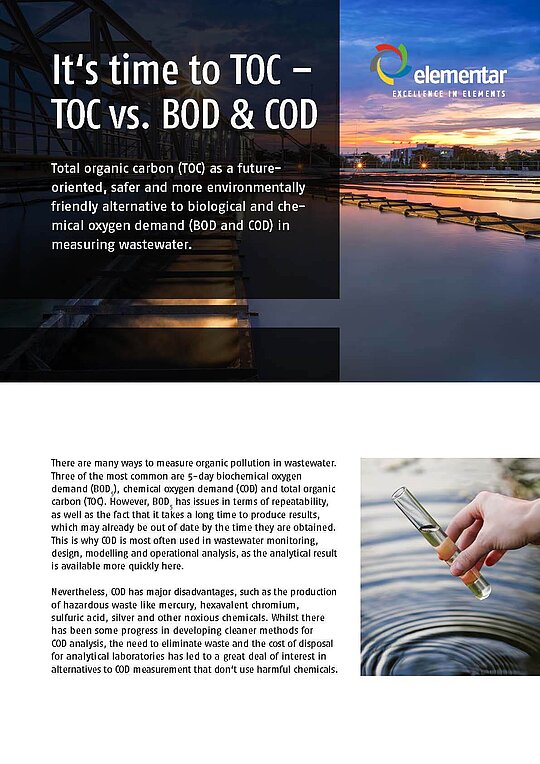 Fill in the form to receive your download link by e-mail.
By downloading the file, I simultaneously consent to Elementar India Pvt. Ltd. sending me a personalized newsletter by e-mail and evaluating my respective user behavior and - if available - consolidating this data with my data in the customer database. The newsletter can be unsubscribed at any time with effect for the future. For further information, please read our privacy policy.
Do you got questions? Our team is there to help.
Our team is happy to answer your questions and and requests regarding our services, analyzers and the applications that can be covered. Just get in touch and let us know how we can support you.