Elementar India - Excellence in elements
Elementar India is a wholly owned subsidiary company of Elementar Analysensysteme GmbH, Germany and was incorporated in 2016 as Elementar India Pvt. Ltd. However, Elementar had its presence in India since more than three decades though dealers and networks. Through our unique innovative standards Elementar India became one of the leading suppliers of Elemental Analyzers, Isotope Ratio Mass Spectrometers, consumables and services to reputed organisations in India.
Elementar Analysensysteme GmbH, Germany is one of the leading manufacturers of the most dynamic range of elemental analyzers for the determination of nonmetal elements like Carbon, Hydrogen, Nitrogen, Sulfur, Oxygen, chlorine, etc in all organic and majority of inorganic substances. Elementar also Manufactures Isotope ratio Mass Spectrometer (IRMS). Incorporating over 125 years of innovation and development into a technology-leading comprehensive product portfolio of elemental analyzers, Elementar has arisen from the Analytical Instrumentation Department of the Heraeus technology group.
Elementar India's Headquarter is located in DLF Corporate Park, Gurugram, Haryana which is one of the largest hubs of IT activity in Delhi NCR. We Elementar India, approach our work with dedication, and with quality standards that leads to best-in-class results.
We always find it fascinating how individual elements shape the world.
You want to know more about the history of elemental analysis?
Our book "125 Years of Instrumental Elemental Analysis - A success story" offers you deep insights into the development of elemental analysis from the very first beginning up to latest trends nowadays. Which pioneers have laid the foundation for elemental analysis with their innovative ideas and research? How has elemental analysis developed from the early stage to an industrial produced technology? What is the technological platform that the method is based on and which applications can be covered? Which role have we as Elementar played in the development of elemental analysis? All these questions are getting answered in the book. Enjoy reading.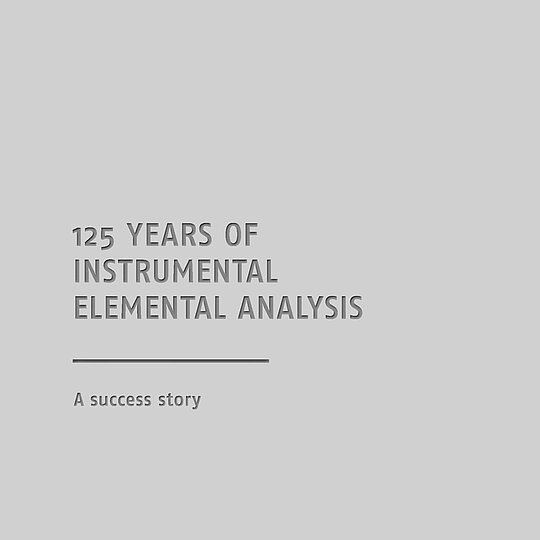 Fill in the form to receive your download link by e-mail.
By downloading the file, I simultaneously consent to Elementar India Pvt. Ltd. sending me a personalized newsletter by e-mail and evaluating my respective user behavior and - if available - consolidating this data with my data in the customer database. The newsletter can be unsubscribed at any time with effect for the future. For further information, please read our privacy policy.