Reliable analysis of soil, plant material, and fertilizers
The performance of a particular plant or an entire crop is highly dependent on the fertility of the soil it is growing in. Soil fertility is a multi-faceted analysis of elemental concentrations and biological activity. To get a complete picture of soil fertility, concentrations of carbon, nitrogen, and sulfur, as well as the differentiation of carbon into total organic (TOC) or total inorganic carbon (TIC) fractions, are relevant parameters. Improving soil health by fertilization requires accurate measurements of a wide range of soils and fertilizers. Our wide range of multi- and single-element analyzers provide individualized solutions to even the most challenging tasks.
For a better understanding of the macro and micro element cycling mechanisms through the plant-soil system, our dedicated systems for stable isotope ratio mass spectrometry (IRMS) provide the ideal solution for stable isotope analysis in plant material and soil samples.
Determination of carbon in soil, sediment, sludge and solid waste
Application note
The Application Note shows the determination of total organic carbon (TOC), total inorganic carbon (TIC) and elemental carbon (ROC) contents in different samples with three different methods.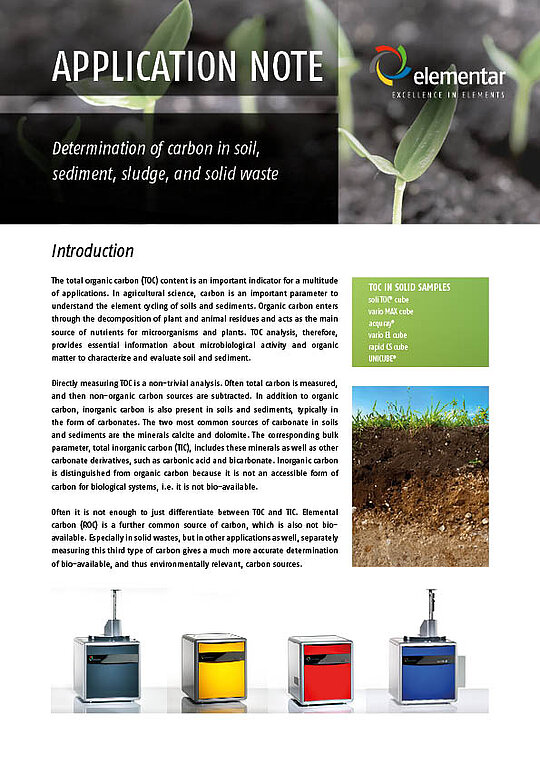 Fill in the form to receive your download link by e-mail.
By downloading the file, I simultaneously consent to Elementar India Pvt. Ltd. sending me a personalized newsletter by e-mail and evaluating my respective user behavior and - if available - consolidating this data with my data in the customer database. The newsletter can be unsubscribed at any time with effect for the future. For further information, please read our privacy policy.
The carbon and nitrogen content of soil is directly related to its ability to support healthy plant growth. The vario MAX cube elemental analyzer is particularly suited to soil analysis. Capable of measuring up to 5 g of soil, sample inhomogeneity is not an issue. Automated ash removal reduces maintenance requirements and increases productivity. Our unique Advanced Purge and Trap (APT) gas separation system means that even C:N ratios of 7,000:1 are perfectly resolved. Additional options, such as using argon as carrier gas and measuring sulfur or TOC, make the vario MAX cube a versatile, robust solution for soil elemental analysis.
In the quality control of fertilizers, determining the nitrogen content is essential. Our rapid MAX N exceed nitrogen and protein analyzer is the ideal instrument for this task. With sample sizes up to 5 g of inorganic or 1 g of organic material, sample preparation in many cases is as easy as weighing the sample into the reusable steel crucibles.
With the reduction of external sulfur sources, maintaining proper sulfur levels in soil by fertilization is becoming more important. The vario MACRO cube elemental analyzer is the world's only macro sample (up to 1 g) analyzer capable of measuring carbon, hydrogen, nitrogen, and sulfur all in one sample. The wide dynamic range of the thermal conductivity detector enables the accurate determination of sulfur from a fraction of a percent up to 100 % with just one calibration range. Whether interested in just sulfur or any combination of CHNS, the vario MACRO cube provides timely, reliable results with little maintenance, saving you time and money.
Carbon fractions: TOC, ROC, and TIC
Total organic carbon (TOC) analysis provides essential information about microbiological activity and organic matter to characterize and evaluate soil and sediment. Soils can also contain a large amount of biologically inaccessible inorganic carbon (TIC), typically in the form of carbonates. Elemental carbon (ROC) is a further common source of carbon, which is also not bio-available. Separately measuring this third carbon fraction can give a much more accurate determination of bio-available, and thus environmentally relevant TOC compared to the acidification method. The revolutionary TOC analyzer soli TOC® cube measures these three carbon fractions in soils and other solids in a single sample without the need for corrosive acids, providing reliable results with minimal user input.
The investigation of soil dynamics delivers valuable insights into the micro and macro element cycling within the plant-soil system. The analysis of stable isotopes can help to better understand these dynamics. Our GeovisION IRMS system is a dedicated solution for stable isotope analysis in soil and plant samples.
Our instrumentation for the analysis of soil, plant material, and fertilizers