ENVIRONMENTAL & WASTEWATER ANALYSIS MADE EASY
We are on a mission
When it comes to accurately measuring total organic carbon, our mission is to make your working life easier. We asked 1,000 laboratory employees about the personal challenges they face in their daily work when running environmental and wastewater analysis. What did they tell us? That complex or inefficient technology leads to measurement inaccuracies, equipment failures and increased workload. Our mission is to change that.

We are hosting a series of webinars looking at all aspects of TOC and TNb determination starting in August 2022.
Wastewater analysis
NEW CHALLENGES IN EVERYDAY LABORATORY WORK
TOC and TNb are important indicators in the process of wastewater treatment. There are now a number of regulations, both in the EU and worldwide, that define the permissible values for TOC and TNb from wastewater treatment plants. In our laboratory surveys, accurate analysis of TOC and TNb levels in particularly saline solutions, particulate-containing samples and solids were among the biggest challenges. Large, stable particles must be digested, saline samples lead to corrosion, and sedimentation and ash deposits cause increased and usually complicated maintenance. To fully digest these samples and ensure high quality results, these samples may need to be exposed to a range of different combustion temperatures.
Learn about the influence combustion temperature has on TOC determination in surface and wastewater, and how you can solve these and other challenges more quickly and conveniently.
Counting on carbon - TOC vs. BOD & COD
Whitepaper
Learn why total organic carbon (TOC) measurement is the safer, more reliable and environmentally friendly alternative to biological and chemical oxygen demand (BOD and COD) measurement in wastewater analysis in this white paper.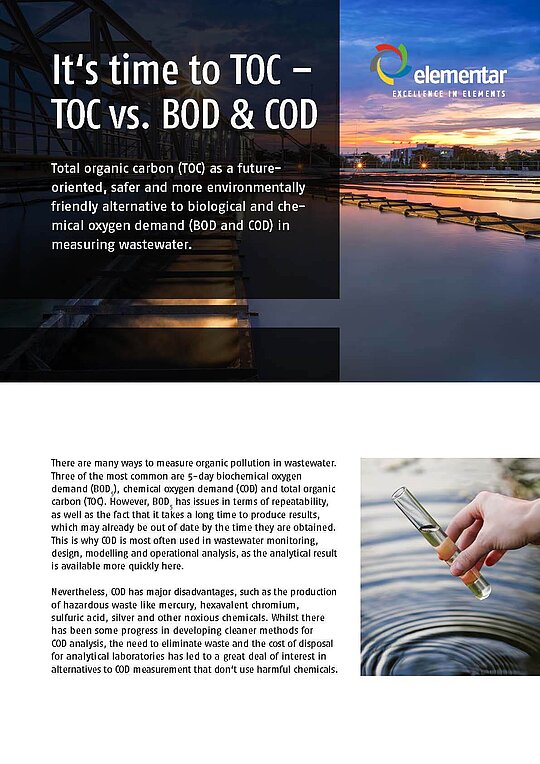 Fill in the form to receive your download link per e-mail.
By downloading the file, I simultaneously consent to Elementar UK Ltd. sending me a personalized newsletter by e-mail and evaluating my respective user behavior and - if available - consolidating this data with my data in the customer database. The newsletter can be unsubscribed at any time with effect for the future. For further information, please read our privacy policy.
enviro TOC
Fully automated environmental and wastewater analysis
enviro TOC is specifically designed to be easier to use, more flexible, accurate and simpler to maintain. enviro TOC is a customizable system for TOC/TNb analysis in environmental water and wastewater. It is a future-oriented, precise technological solution that is also more efficient and environmentally friendly, thanks to longer-life components and a user-oriented maintenance concept. Regardless of whether you're analyzing water from rivers, lakes and seas, or managing water from public sources, manufacturing processes and wastewater, enviro TOC is the smart choice.
The right method for every application
Downloads
Discover the best methods, useful hints and expert tips for your very specific applications in TOC analysis.
Stay up-to-date
Newsletter
Further downloads are coming soon.
Stay up-to-date and register for our newsletter to receive latest news and publications on surface water and wastewater analysis.
Our mission: Your success
Providing greater measurement to make your working life easier
When it comes to accurately measuring TOC in environmental and wastewater, our mission is to make work as stress-free and efficient as possible for you. Contact us and learn how enviro TOC can make a real difference to your working life. Because enviro TOC combines proven functions with the new technology requirements of the industry - for the most convenient and resource-saving TOC and TNb determination in surface water and wastewater samples.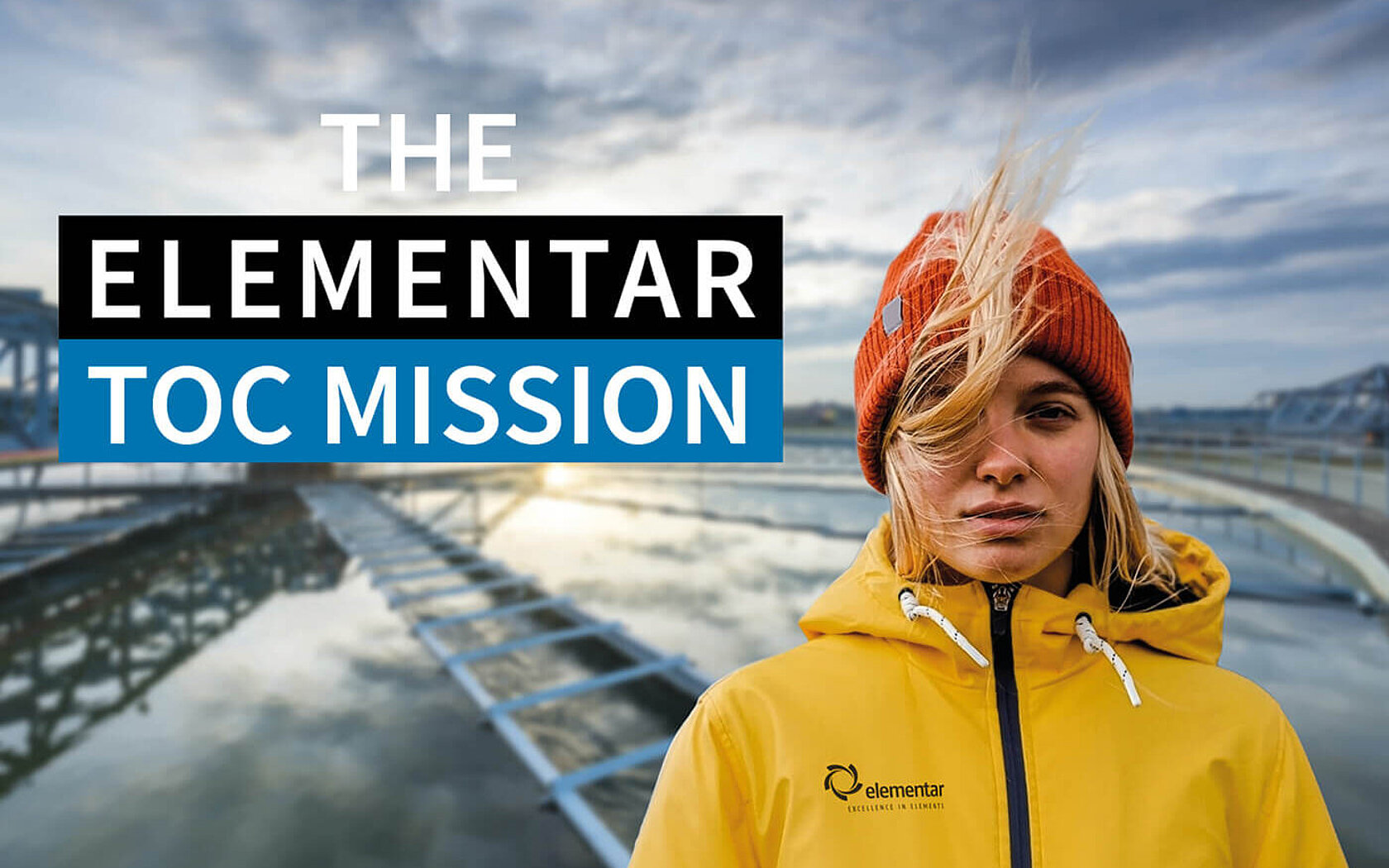 Our TOC Mission team is here for you
On-site or online
Do you have questions or challenges and need an expert to provide straightforward support? You are evaluating different methods and need our help? You want to learn more about our mission? Our TOC Mission team is available to answer all your questions about surface and wastewater analysis.