From Soil to Superfood
How Elemental Analysis Is Transforming Plant Protein Research
Analyzing proteins plays a pivotal role in optimizing operations throughout the entire production cycle of plant-based products, from evaluating the protein content of incoming crops to ensuring precise labeling of finished products.
In a recent interview with The Future of Protein Production International, Joseph Thomas, President and CEO of Elementar Americas, offers insights into how plant-based food producers can benefit from in-house protein analysis using fast, reliable, and easy-to-use nitrogen and protein analyzers. Watch the video interview and download the article.
Watch the video interview, listen to the podcast recording, and download the full article below.
Achieving plug-and-play functionality, especially in the field of analytical technology, may seem ambitious, but it's the ideal scenario.

Joseph Thomas, President and CEO of Elementar Americas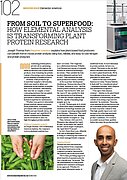 From Soil to Superfood: How Elemental Analysis is Transforming Plant Protein Research