Next level nitrogen and protein analysis
Grow your plant-based protein business with our analytical solutions
Nitrogen and protein determination is an essential step in the development and production of plant-based food products. But time-consuming sample preparation, long analysis procedures, difficult to handle instruments, and tedious maintenance work can be a real bottleneck in nitrogen and protein analysis - especially when you have a lot of samples to be analyzed. The result: your R&D and quality control departments do not work as efficiently as they could, unnecessarily slowing down the production process of your plant-based protein products. It doesn't have to be that way!
Let us help you grow your business
Our mission is your success. Incorporating 125 years of experience in elemental analysis, we support agricultural and food production businesses world-wide in creating high quality foods. Let our Dumas combustion analyzers bring your nitrogen and protein analysis to the next level, supporting process optimization and growth of your business. Learn how.

Your benefits
Take your nitrogen and protein analysis to the next level - with analyzers from Elementar
Flexible: Analysis along the whole supply chain
Perform nitrogen and protein analysis along the whole supply chain of plant-based food in a wide range of sample matrices - whether it's solid, liquid, or pasty samples up to 5 g sample weight.
Cost-effective: Lowest cost per sample
Thanks to the resource-saving EAS REGAINER® technology and the use of Argon or CO2 as alternative carrier gases, our analyzers are especially cost-effective, making you independent of raising helium prices.
Eco-friendly: No toxic chemicals, low on resources
Thanks to the Dumas combustion method and our EAS REGAINER® technology, our analyzers are eco-friendly and resource-saving. Operation is easy and non-hazardous - even for unskilled users.
Easy to use: Fully automated and digitized
Nitrogen and protein analysis has never been easier: Our analyzers are fully automated and digitized, allowing you to save time and labor. In addition, pre-filled tubes and easily accessible components ensure quick and easy maintenance routines.
Download
Learn how protein analysis supports crop growers and plant-based food producers and discover the advantages of developing this capacity in-house in this guide.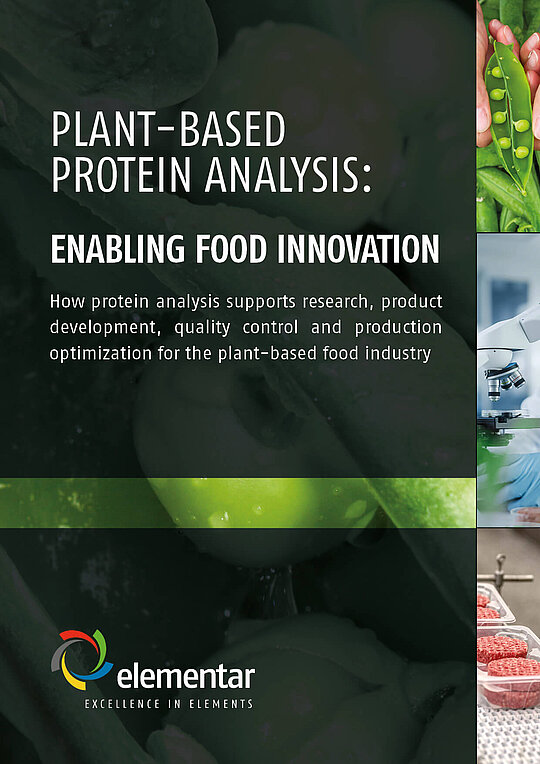 Fill in the form to receive your download link by e-mail.
By clicking on the "Subscribe" button, I consent to the receipt of personalized newsletters via e-mail by Elementar Analysensysteme GmbH and its group companies companies as well as the evaluation of my user behavior in this regard and - if available - the merging of this data with my data in our customer database. In order to receive newsletters from our group companies, it is necessary to transfer your above-mentioned personal data to these companies. We point out that these are partly located in so-called unsafe third countries outside the EU/EEA , in which no adequate level of data protection (e.g. by adequacy decision of the EU, Art. 45 GDPR) is guaranteed. In these countries, you may not be able to enforce your rights as a data subject, or only to a limited extent. In addition, it is possible that local government agencies access your data to a disproportionate extent. The transfer of data to these recipients is therefore only legitimized by your consent pursuant to Art. 49 (1) lit. a) GDPR, which you grant with your subscription. The newsletter can be unsubscribed at any time with effect for the future as well as my consent to the third country transfer can be revoked at any time. A revocation does not affect the lawfulness of the processing carried out on the basis of the consent until the revocation. For further information, please refer to our privacy policy.
Our solution
Maximum performance for plant-based protein analysis
Our nitrogen and protein analyzers rapid MAX N exceed and rapid N exceed® provide rapid and automated nitrogen and protein determination with highest precision and accuracy - ideal for the use along the whole food supply chain, from raw ingredients to end products. Based on high-temperature combustion according to Dumas (compliant to all relevant norms like ISO, AOAC, AOCS, ASBC, ICC, EBC, etc.), our analyzers are especially eco-friendly and safe to work with as no toxic chemicals are used and no toxic waste is produced. Thanks to our resource-saving EAS REGAINER® Technology, our analyzers ensure a cost-effective and eco-friendly nitrogen and protein determination in your solid, pasty, or liquid samples. Click on the "+" buttons below to learn how you can benefit from our analytical solutions.
Maximum performance, fully automated
rapid MAX N exceed
The rapid MAX N exceed nitrogen and protein analyzer offers increased laboratory efficiency at significant lower price per sample. Designed for 24/7 unattended operation, this analyzer addresses the needs of any high-throughput laboratory facing a wide range of sample types and weights (up to 5 g).
Lowest cost per sample
rapid N exceed®
The rapid N exceed® nitrogen and protein analyzer offers fast (3-4 minutes) and cost-effective nitrogen and protein determination of samples up to 1.5 g. The instrument realizes the lowest cost per sample in nitrogen and protein analysis and stands for absolute precision and high detection sensitivity.
Download
Discover the fast and automated way of nitrogen and protein analysis of plant-based protein food
Learn in this Application Note how our nitrogen and protein analyzers support your plant-based food business in every step of the supply chain, delivering reliable measurement results fast - no matter which sample type or size. The Application Note includes analysis data from real samples, including protein powder from soy, pea, hemp, and rice; oat milk, as well as cheese, sausage, and meat analogues.
Learn how our solutions support plant-based food businesses
Download
Download our Customer Spotlights and learn how Beyond Meat creates better plant-based products, how Plantible Foods optimized their plant-based production methods, and how protein determination and quality control at AVEBE were facilitated using our nitrogen and protein analyzers.
Our mission: your success
At Elementar, our mission is your success. We help you to support the quality of life whenever nutrition, water, health, education, environment, climate, energy, or product quality are involved. We make life understandable in its elements. Constantly. Simply.
We aim to provide you with the best solution for your applicational needs. To achieve this, we are constantly working on innovations and strive for the highest quality. In addition, we attach great importance to comprehensive customer support and pursue a strong sustainable approach – in ecological as well as economic terms. This is reflected in the use of high-quality materials for longest lifetime of our instruments, in our headquarters, which follows a sustainable construction and energy concept, and also in a business model that ensures our long-term success.
Our plant-based protein team is here for you
You want to learn more about our solutions for plant-based protein analysis? Do you have questions or challenges and need an expert to provide straightforward support? Our team is available to answer your questions.
Would you like to receive notifications about new Application Notes, whitepapers and the latest information on our solutions for nitrogen and protein analysis?
Subscribe to our newsletter and be always up-to-date.