Monitoring the quality of recycled oil with easy and accurate CHNS/O elemental analysis
The emergence of chemical recycling methods that turn plastic waste back into oil represents an important breakthrough to battle the plastic waste problem. However recycled oil (often termed pyrolysis oil) has slightly different properties than fossil crude oil. High concentrations of heteroatoms (i.e., sulfur, nitrogen, and oxygen) in recycled feedstock are undesirable, since they can poison the catalysts or cause corrosion in refinery equipment. To make sure that the recycled oil is compatible to be further processed into new chemicals, virgin-grade plastic products or fuel its carbon, hydrogen, nitrogen, oxygen, and sulfur (CHNOS) contents need to be measured.
Learn how to monitor the quality of recycled oil, even with high concentrations of heteroatoms.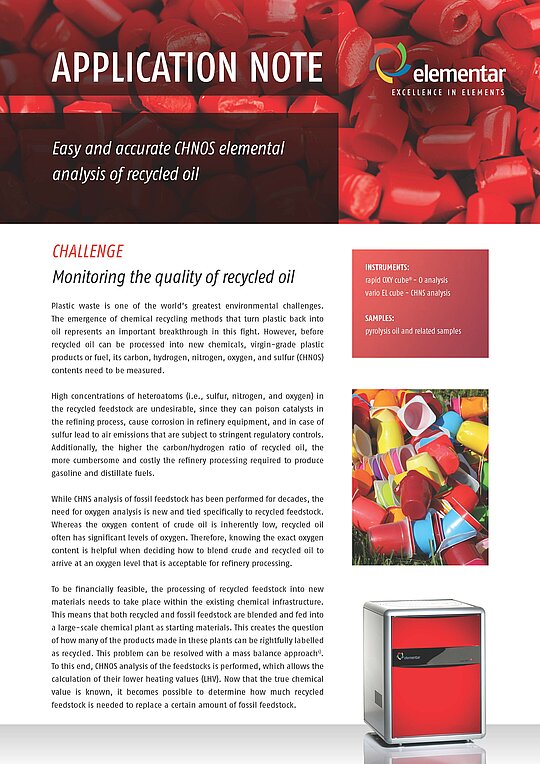 Fill in the form to receive your download link by e-mail.
By clicking on the "Subscribe" button, I consent to the receipt of personalized newsletters via e-mail by Elementar Analysensysteme GmbH and its group companies companies as well as the evaluation of my user behavior in this regard and - if available - the merging of this data with my data in our customer database. In order to receive newsletters from our group companies, it is necessary to transfer your above-mentioned personal data to these companies. We point out that these are partly located in so-called unsafe third countries outside the EU/EEA , in which no adequate level of data protection (e.g. by adequacy decision of the EU, Art. 45 GDPR) is guaranteed. In these countries, you may not be able to enforce your rights as a data subject, or only to a limited extent. In addition, it is possible that local government agencies access your data to a disproportionate extent. The transfer of data to these recipients is therefore only legitimized by your consent pursuant to Art. 49 (1) lit. a) GDPR, which you grant with your subscription. The newsletter can be unsubscribed at any time with effect for the future as well as my consent to the third country transfer can be revoked at any time. A revocation does not affect the lawfulness of the processing carried out on the basis of the consent until the revocation. For further information, please refer to our privacy policy.
Precise and accurate results even at lowest oxygen contents down to 10 ppm
Whereas the oxygen content of crude oil is inherently low, recycled oil often has significant levels of oxygen. Therefore, knowing the exact oxygen content is necessary for further refinery processing. Oxygen analysis is easily accomplished with our rapid OXY cube®, the only dedicated elemental oxygen analyzer in the market. Benefit from its highly accurate, highly precise, and matrix-independent analytical results thanks to an extraordinarily high pyrolysis temperature of 1,450°C. This high temperature ensures that the oxygen in the sample is completely converted into the target analyte carbon monoxide. There is no need for time-consuming matrix standard run-ins between the samples.
The unparalleled limited of detection (LOD) of 10 ppm is made possible with a powerful IR-Upgrade. Due to its high sensitivity even the lowest oxygen concentrations result in tall and narrow peaks. Since the IR detector only responds to the target analyte CO, the pyrolysis gases can directly be analyzed via the IR detector. This results in a sample analysis time of 3 - 4 minutes, an even lower system blank and helium savings.
Reliable CHNS measurements optimized for the high C and H contents of oil samples
Oils are very high in carbon and hydrogen and low in nitrogen and sulfur. Excellent peak separation is therefore crucial to obtain accurate analytical data. To ensure highly reliable results, the vario EL cube uses a unique peak separation mechanism with 3 gas-separating columns. This intelligent peak separation adjusts dynamically to each individual sample and makes a big difference for the C-H peak separation of oil samples.
For precise measurements of hydrogen and sulfur concentrations, the vario EL cube's tubing is actively heated. This prevents condensation water inside the system and thus the misquantification of hydrogen and sulfur. Particularly oil samples, with their high hydrogen content, tend to form water when combusted with O2.
Trace sulfur analysis is enabled by an optional IR detector. The nitrogen content of oils tends to be low. Here, it is of advantage that the vario EL cube has extremely low nitrogen blanks thanks to our patented ball valve technology. It effectively prevents the measuring results from being influenced by ambient air.
Thanks to the outstanding robustness of our instrument, lager sample sizes can easily be measured which reduces weighing errors and leading to higher precision.
Convenient and easy to work with
For the reliable introduction of oil samples both instruments can be equipped with two different kinds of autosampler. The solid autosampler can be used with oil samples packed in capsules. To minimize the preparation effort to an absolute minimum, the optional vario Liquid sampler (VLS) can be used.
Both analyzers are characterized by a low-maintenance design, which includes long-term stable calibrations. Within the software, a counter keeps track of how many samples can be run before the next maintenance task is due. Whenever maintenance is necessary, our user-friendly clamp connections ensure a tool-free maintenance experience, while the slide-out furnace gives easy access to all important parts and guarantees a comfortable working posture.
Discover more information about the instruments & the analysis of liquid fuels
Get in touch with your sales contact
You would like to have more information? We will be happy to answer your questions about the easy and accurate CHNS/O analysis of recycled oil as well as the rapid OXY cube® and the vario EL cube. Let us know how we can support you.
Would you like to receive notifications about new Application Notes, whitepapers and the latest information on our solutions for quality control?
Subscribe to our newsletter and be always up-to-date.